Thailand is a country situated in Southeast Asia get help from this Free Printable Blank map of Thailand in PDF for gaining knowledge about the geographical, demographical heritage of the country. Siam was the name for the country until 1939.
Printable Map Of Thailand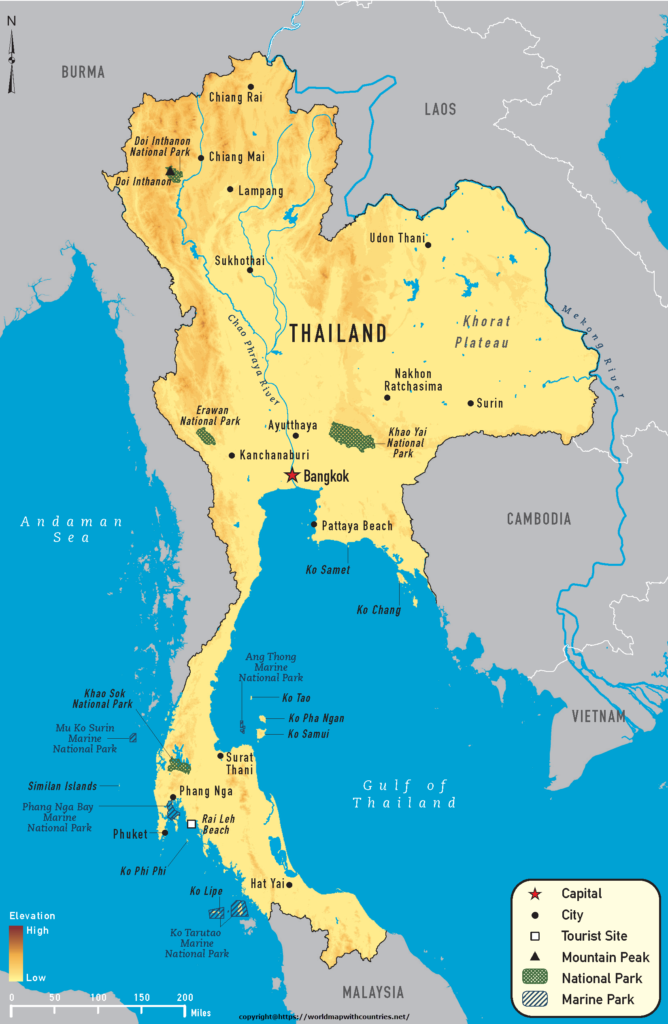 The country is surrounded by Cambodia, Laos, Myanmar, and the Gulf of Thailand from the south. In the area, it is similar to Spain and France. Thailand is located in the tropics with its diversified ecosystem with hilly forests, rice and paddy fields in central, and a large coast in the southern peninsula. In the 20th century, it was an agricultural country then later its population started to moving Bangkok and other major cities and the urbanization begins.
Blank Map Of Thailand Outline
Chiang Mai, Nakhon Ratchasima, Khon Kaen, Udon Thani, Pattaya, and Hat Yai are the major cities of the country. Mount Inthanon is the highest point with 2,585 meters in northwestern Thailand, near the historical city of Chiang Mai.  Chao Phraya in the west and the Mekong in the east are the major drainage system with 3 other rivers Ping, the Yom, and the Nan.
Labeled Map Of Thailand
Thailand lies in the tropical monsoon zone due to which there is hot to cold, dry to wet all types of weather can be seen. May have warm humid air towards the Indian Ocean, rainfall in September, then in November and February winds blows opposite to may i.e, towards north and temperature becomes cooler. March and April have air with a period inetrmansoonal.
Thailand Map With State
Tai, Malay, Mon, Khmer are the major languages used in Thailand. The country provided a home for many immigrants from China and South Asia. Buddhism and Christianity are the religion followed by most of the population. Monks have a major role in the cultural values of the country and are embraced all around. Economically based on the production of rice and other domestic goods as rubber, tin, teak export. Except for that cassava, maize, kenaf, mangoes, pineapples, durians, cashews, vegetables, and flowers are also exported.