Free Printable Labeled and Blank map of Iraq in PDF will help you to learn and find the geographical aspects of country Iraq. In ancient times it was named Mesopotamia as surrounded by rivers. Thus it is also an ancient civilization including Sumer, Akkad, Babylon, and. In 1932 Iraq got independence but due to turbulent monarchical rule, it was under the British Government for the next quarter-century. Arab, Kurd,  Turks, Turkmen, and Assyrians are the major population of the country with their own languages. As Arabs follow Arabi, Turks have Turkish, Kurdish, Turkmen are also their main language.
Printable Map Of Iraq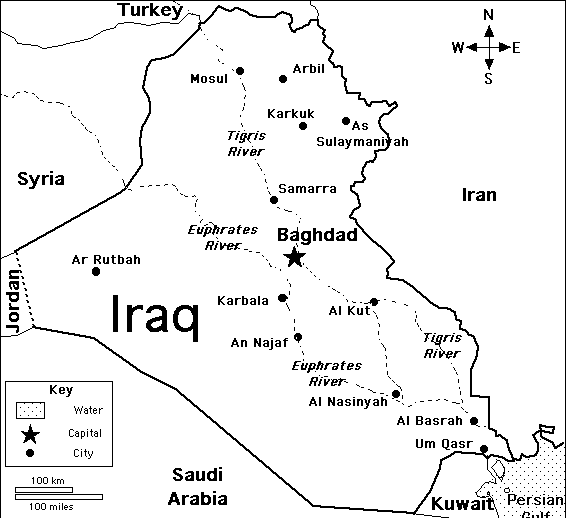 From the 7th century, it's a central part of the Islamic world but before that Persian, Greek, and Roman dynasties are there. Baghdad is the capital, and after Saudi Arabia, Iraq has the biggest oil reserves in the world. In the 1970s government planned to build the world's biggest army with the best equipment but later one of the leaders, Saddam Hussein led to disastrous military adventures. Iran-Iraq War and the Persian Gulf war are the results. Demographically Iraq has a very young population with 2/5 of people under age 15 and 2/3 are under 30. This difference is because of the higher birth rate.
Blank Map Of Iraq Outline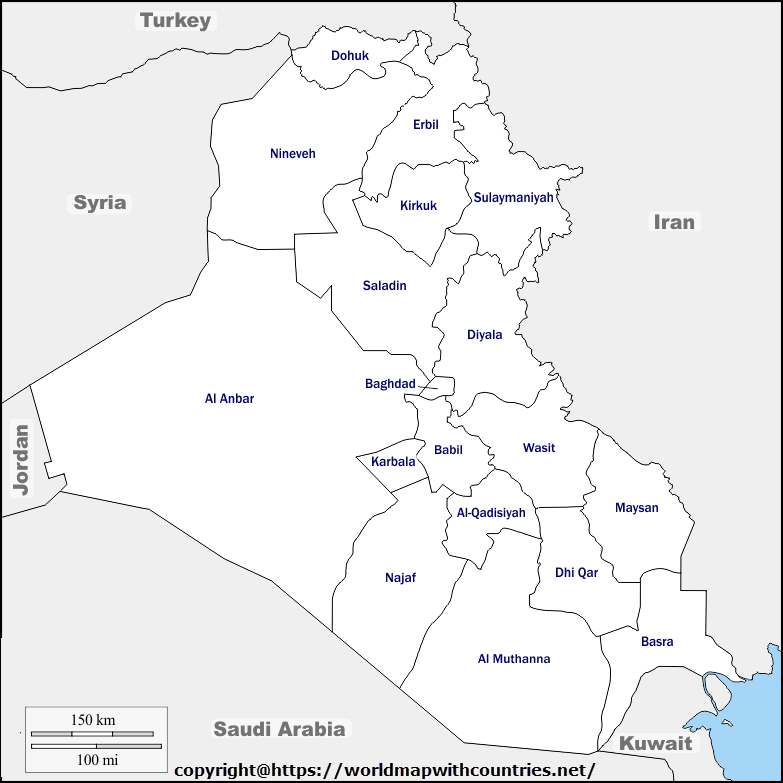 Sinjār Mountains are the highest point of the country with 4,448 feet. Wadi Al-Tharthār is the main river running 210 km towards the south. A large area of 168,000 square km is cover with desert from west to south know with the name of Al-Ḥajarah and Al-Dibdibah.
Labeled Map Of Iraq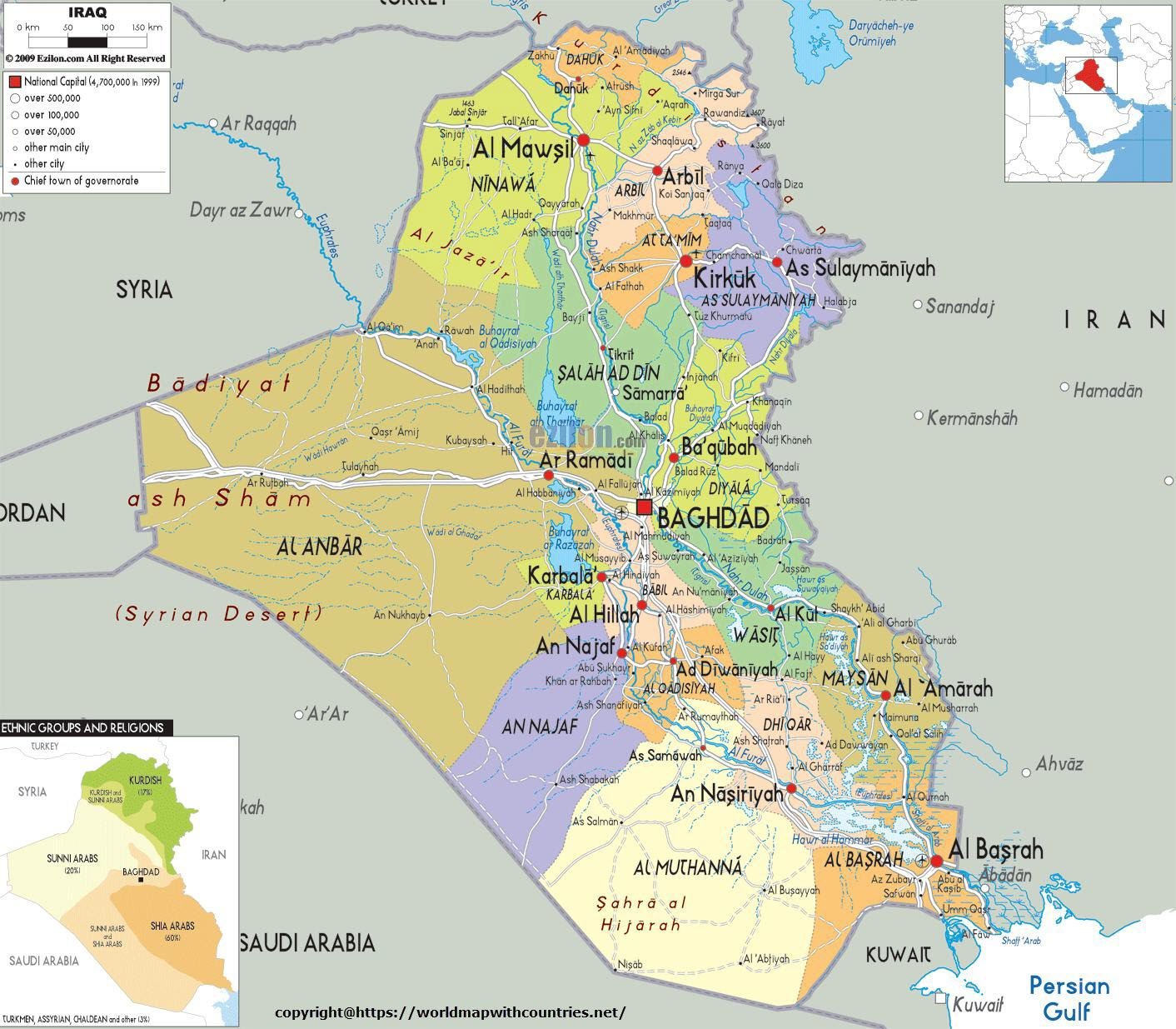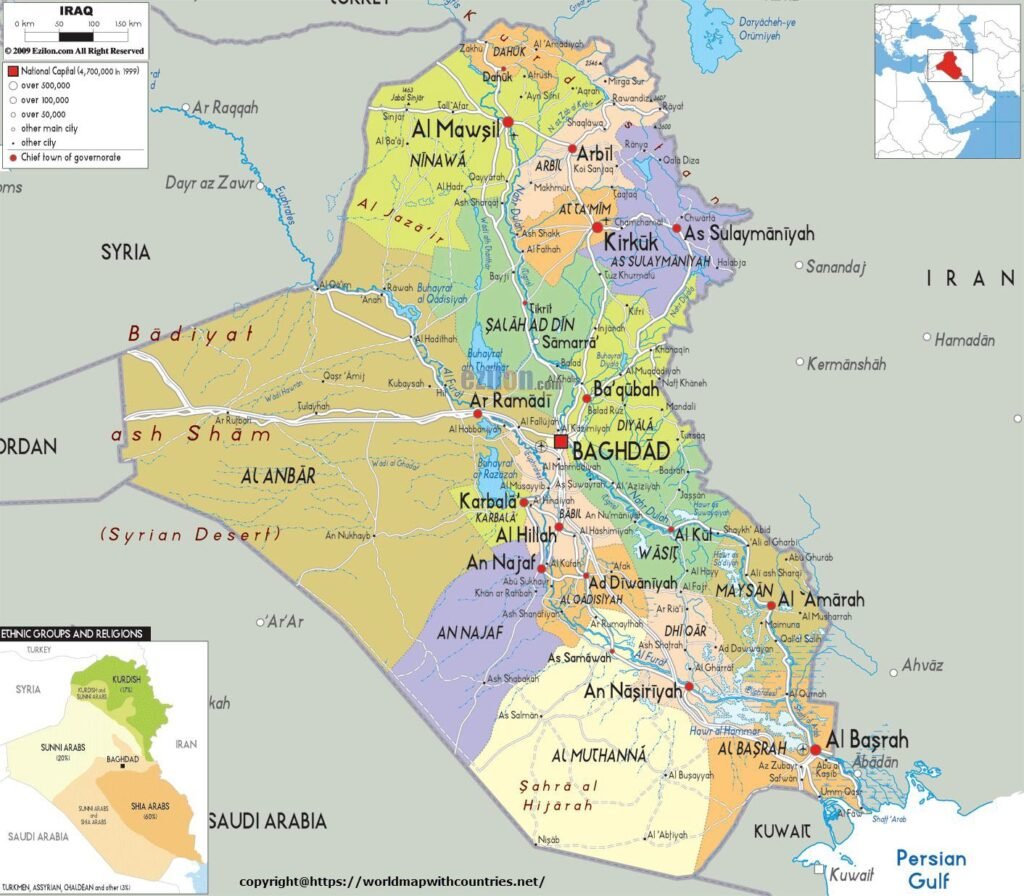 Iraq's atmosphere follows a hot and dry climate, summers are long, hot, and dry whereas winters are short and cool. The Persian Gulf in the southern coastal area is humid. 35 °C is the temperature of July and August and the highest summer temperature recorded in Baghdad is 51°C. Winters fall from December to January with a minimum temperature of 2 to 15 °C.
Iraq Map With State
Wolves, foxes, jackals, hyenas, wild pigs, and wildcats as well as many small animals such as martens, badgers, otters, porcupines, and muskrats are also the resident of this ancient civilization. Lion, oryx, ostrich is extinct and the government working in the area to save them.