Learn about Asian rivers with Free and Labeled Map of Asia Rivers In PDF. Asia is rich in rivers, it has dozens of rivers including the Ganges, Indus, Lena, Mekong, Ob, Yangtze, and Yellow. It has world-famous rivers and few are passing through many countries. Gather all the required information about the rivers with the given labeled maps.
Asia Map rivers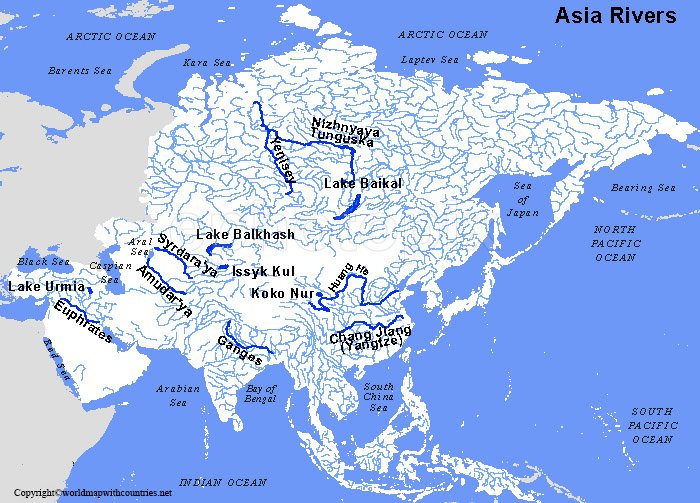 The Yangtze which is 6380 kilometers long, is the Longest River in Asia and the third-longest in the world. The River is the longest in the world to flow entirely within one country, it flows west to east in the East China Sea. Its origin is jari hills and ends in the East China Sea near Shanghai.
Map of Asia rivers Labeled
The next number is Brahmaputra River it is the largest in India and the longest is Ganga's it is the 9th largest River in the world by discharge and the 15th longest extraordinary is 3848 kilometers it is located in China India and Bangladesh and source of origin is Bhagirathi glaciers Himalaya.
Indus River is one of the longest rivers in Asia and it is the longest River and national River of Pakistan. Its location countries are China, India, and Pakistan, and the source of origin is from the Tibetan plateau. It emerged into the Arabian Sea Near the rann of kutch.
Map of Asia rivers
The Amu Draya is the longest river with a length of 2,661 km to pass through Afganistan, Helmand is the longest river with 1,400km wholly flowing within the country. Amu Draya flows through Tajikistan, Uzbekistan, Turkmenistan.
River Jamuna Originates from Brahmaputra river and enters Bangladesh and then mouthed to the bay of Bengal.
Rivers Map of Asia
Also, Asia has a population following Hinduism, Buddhism, and Jainism and they worship rivers as God and Sacred. River Ganges with a length of 2,510 km. It is also a lifeline to millions of Indians who live along its course and depend on it for their daily needs.
Hope the above information with the maps is useful to you and helps you with your studies.