Free Printable Maps of France with Cities
Blank Map of France
Where is France Located on the World Map?
France, officially République Français or the French Republic, is a western European country that borders Belgium and Germany in the north, Spain and Pyrenees Mountains in the south, and the Atlantic Ocean in the west. It has long been a trade route to northern and southern Europe.
France in world map
France, created by an alliance of duchies and principalities under a single ruler in the Middle Ages, is one of the world's oldest nations. In France, the central authority is vested in the state, while the regions have some autonomy. Thus, French citizens look to the state as the custodian of liberty while the government ensures citizens' safety and well-being. Despite this centralist tendency, the French still maintain their long-standing belief in individualism. That is why French historian Jules Michelet asserted that "England is an empire, Germany is a nation, a race, France is a person." France Statesman Charles de Gaulle also stressed that "Only peril can bring the French together. One can't impose unity out of the blue on a country that has 265 different kinds of cheese."
France doubles as the world's leading industrial power and Europe's agricultural hub. Vast fertile plains mainly cover France's northern and western regions. In contrast, France's southern region is occupied by the sprawling wooded plateau of the Massif Central and an array of ancient mountains and extinguished volcanoes.
France is a dominant force in the western world historically and culturally. The country is highly influential in international affairs as its former colonies are spread across the globe. France is a geographic, cultural, and economic bridge linking northern and southern boundaries with the Mediterranean Sea and the Atlantic Ocean, the Pyrenees, and the Alps.
Blank Map of France with Cities
What are the biggest cities in France by Population?
Paris
is famous for history, art, fashion, and romance, Paris has an enchanting beauty discovered by touring its resplendent tree-lined boulevard, medieval cobblestone streets, and riverside pathways. Paris's fascinating cultural attractions make it a top tourist destination. The Louvre Museum marvels to tourists with its fantastic collection of masterpieces, and the magnificent Eiffel Tower offers thrilling views. You can't get enough of Paris magic. You can listen to street music at Seine River Bridge, enjoy desserts at fancy pastry boutiques, or have great coffee at sidewalk cafés and cozy restaurants. Also, Paris houses some of the world's finest dining restaurants, designer boutiques, and opera houses. Other remarkable landmarks in Paris include Notre Dame Cathedral, the Arc de Triomphe, and The Champs-Elysees. To plan a visit to Paris, go to parisinfo.com
Nice
located in French Riviera close to the Italian border, is a seaside resort town with astounding scenery. It's also famous for its art collections. Nice has been playing host to vacationers as far back as the 1820s. The beautiful city sits at the foothills of the Maritime Alps on the Baie des Anges, a bay with serene azure waters. Prominent dazzling sites at Nice are the ancient pedestrian avenue following the bay curve, the Promenade des Anglais and the Vieille Ville (Old Town). Nice is also repleted with many art museums and gardens; its cobblestone streets are filled with historical monuments like the 17th Century Baroque Cathedral. Between the 1880 and the 20th century, many artists' works were influenced by the alluring natural beauty of Nices. Works of artists like Raoul Dufy, Marc Chagall, Henri Matisse, and more are inspired by Nice stunning seaside scenery. These paintings can still be found at the Musee National Marc Chagall, Musee Matisse, and Musee des Beaux-Arts. To plan a visit to Nice, go to nicetourisme.com
Printable Map of France with Cities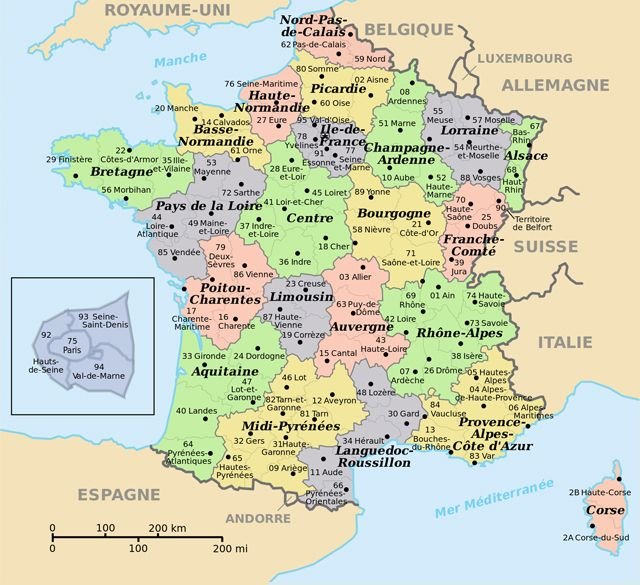 Lyon
located along the bank of two rivers, is the gastronomy capital of France. The historic city plays host to culinary enthusiasts worldwide to visit to explore authentic French cuisine. Tourists can enjoy the local dining at any of the city's many bouchons and cozy brasserie. Visitors can feel Lyon's grandeur architecture by exploring its narrow cobblestone streets and covered alleyways surrounded by attractive culinary boutiques and cute cafes. Lyon also has vast cultural richness and high commercial viability that explains why it is called "France's second city." Lyon is home to the Musée des Beaux-Arts, second to Louvre concerning exceptional fine arts collection, has a fantastic collection of European paintings. Other galleries contain valuable artifacts from Egypt, Rome, and more. To plan a visit to Lyon, go to francetravelplanner.com/lyon
Bordeaux
is so rich in cultural heritage and contains unique architectural treasures that its entire historic center must be designated as a World Heritage Site by UNESCO. At the heart of Bordeaux is an ancient two-towered cathedral. The legendary city also boasts over 300 monuments. Bordeaux peaked during the 18th Century (Age of Enlightenment), that's why it is filled with Neoclassical buildings. The elegant city also has one of the world's best theaters in the 18th century – The Le Grande Theatre. The theatre magnets tourists from different parts of the world to visit Bordeaux to tour the historic city and enjoy music concerts and opera performances at the theater. Tourists can visit the theatre auditorium any time of the year aside from summer. Les Puces de Saint Micheal is opened on Tuesdays, Thursdays, and Fridays for Foreign visitors that love to shop for vintage finds. To plan a visit to Bordeaux, go to france.fr/bordeaux
Marseille
the second most populated French metropolis, is a port city in southern France. Being the oldest city in France, Marseille is rich in history. Though Marseille is an important seaport, it's a relatively known tourist path compared to other tourist destinations around the province like Aix-en-Province, Les Calanques, and Cassis fishing village. An important tourist site in Marseille has been Le Vieux Port (the old port), Marseille's main port, for over 2000 years. The old port, the most iconic landmark in Marseille (the hilltop Basilique Notre-Dame de la Garde), offers tourists splendid sea views. The old port has many restaurants that sell great seafood plates like the bouillabaisse, a local dish made with ingredients from the local fish market in Le Vieux Port. One can discover Marseille multi-cultural leaning from Le Panier (old town), containing Algeria and Middle East restaurants, fashion shops, and artisan boutiques. Foreign visitors can also stroll the Le Panier steep, narrow street for an incredible adventure. To plan a visit to Marseille, go to marseille-tourisme.com
Does France have States?
France has no states since it is a unitary system of government. It instead has departments that a grouped into regions. A prefect heads each department. The department can also be divided into arrondissement, then into canton, then into communes, and finally villages. France has a total of one hundred and one departments. Ninty six departments belong to metropolitan France while the remaining five departments are the same as the overseas regions. The significant difference between the overseas departments and urban regions is the geographical location. Aside from that, mainland regions and overseas departments have the same status, and both ruled with the French constitution. So, French administrative law, social laws, tax laws, civil codes, penal codes, and more apply equally to metropolitan France and Oversea France departments. The overseas regions can't make their laws.
How many Regions does France have?
France has eighteen regions which are categorized into two based on location. Thirteen regions are located in metropolitan France, while the remaining five are located overseas (other continents aside from Europe). The 13 metropolitan regions are Auvergne, Bretagne, Bourgogne, Corsica, Grand Est (Alsace, Champgne, Lorraine), Hautes de France (Nord Pas-de-Calais-Picardi), Ile de France (Paris), Nouvelle Aquitaine (Aquitaine, Poitou-Charentes, Limousine), Normadie, Occitanie (Midi-Pyrenees, Languedoc), Pays de la Loire, Provence – Cote d'Azur. Conversely, France's five overseas regions, also same as overseas departments, are Guadeloupe (in the Caribbean), Guiana (in South America), Martinique (in the Caribbean), La Reunion (in the Indian Ocean), and Mayotte (in the Indian Ocean). The overseas regions have representatives at France National Assembly, Senate, and the Economic and Social Council. They also vote to elect European Parliament (MEP) members and have Euro as their official currency.
What Countries Border France?
Bay of Biscay and English Channels board France to the west; Luxembourg, Germany, and Belgium to the north; Italy and Switzerland to the east; and Spain and Andorra to the south.
Germany
and France share a mutually beneficial diplomatic relationship established by Franco-German Friendship. Both nations are among the most influential members of the European Union and often take similar positions, which earn them the alias twin engines. Two countries work together economically and socio-culturally. Currently, over 30% of industries in Germany are subsidiaries of French companies. Also, the Franco-German Brigade was established and maintained to promote the two nations' cohesion.
Italy
The bilateral relations between France and Italy were established in 1861 when the interstate boundary was created. Both countries also have long existing bilateral economic ties making France Italy's second-largest trading partner, and Italy also stands as France's second-largest trading partner. Their history gives credence to the saying, "Only Paris is worthy of Rome; only Rome is worthy of Paris." France and Italy are also among the founders of NATO, G7, and the European Union.
Belgium
The diplomatic relationship between the two states dates back to the 1830s after Belgium's independence. Since then, both countries have shared a smooth economic and cultural relationship making Belgium the fifth-largest destination of France exported goods and services. Additionally, Belgium and France are members of the Francophonie, NATO, and EU. Also, both countries' solid cultural, scientific, and technical relationships strengthened by academic and cultural devolution have yielded many positive results for both states in terms of innovations and development.
Andorra
Diplomatic ties between France and Andorra have existed since 1278 since Andorra gained its sovereignty from France. Despite being independent, Andorra still currently shares head of state with France. The head of state who is France elected president also doubles as co-prince of Andorra. The Franco-Andorra trade agreement established diplomatic ties between the two states allowing easy import and export. In addition to the partial provision of internet, postal, broadcasting, education, France also contributes to Andorra GDP growth through tourism.
Luxembourg
The bilateral relationship between France and Luxembourg, which dated back to 1945, has been blossoming. The two countries share a smooth economic and cultural affinity. Luxembourg's favorable financial rules stimulate the interest of over 900 companies from France in the banking and insurance sectors to Luxembourg. To promote cultural cohesion, France plans to support Luxembourg as a language fostering social cohesion in the region by using the language as a language of instruction in elementary schools. French is equally taught in Luxembourg from the second year.
Switzerland
The bilateral relationship between Switzerland and France has been legally active since 1516 through the Treaty of Perpetual Peace. The bilateral agreement includes relation fiscal and financial issues, research, innovation, social amenities project, and Euro Airport. The economic integration legalized through the European Union and the Schengen Area, abolishing international trading borders between member states, makes France Switzerland's third-largest trading partner. For better cultural integration, Switzerland made French one of its four official languages.
Spain
After the fierce rivalry that resulted in the 24 years Franco-Spanish war, France and Spain have created a solid interstate relationship. The G6 collaborative effort concerning defense, economic development, and the European constitution influenced the bilateral ties between the two states. France accommodated many Spanish Immigrants who moved to France after the second world war to search for work. Both states' economic relationship was further solidified in1975 by the death of Franco, which enabled freedom in Spanish society. France and Spain are instrumental in the establishment of Latin. They are also founding members of the European Union.
Monaco
To deepen the diplomatic ties between France and Monaco, mutually beneficial and economic relations governed by the Treaty of Versailles were established in 2000. This was influenced by the European External Action Service that integrated Monaco in the Schengen zone. Through the authorization of the EU council, France negotiated inter-allies use of the Euro in Monaco. It created an integrated customs union allowing Monaco to participate in the EU market system. The use same official language by France and Monaco fosters Monaco tourism growth. Monaco is also home to many French nationals; about two-thirds of Monaco's workforce are French citizens. Additionally, recently established a legal system that follows the French Napoleonic codes.
How Big is France?
France, a West European country, is the second-largest country in Europe with a landmass of 551,500 sq km (211,209 sq mi). In comparison, the area occupied by France is slightly less than twice the size of the state of Colorado. France extends 598 mi (960 km) north to south and 590 mi (950 km) east to west. The North Sea and Belgium bounded France in the north, while Luxembourg and Germany border France in the northeast. The English Channel borders France in the northwest with a length of 3,925 mi (6,316 km). Andorra and Spain are in the southwest, Switzerland and Italy in the east, and the Mediterranean sea in the south.
How Big is France Compared to Texas?
Comparatively, France is smaller than the state of Texas. France's total area is 211,209 square miles, while the state of Texas has 268,820 square miles of area.
How big is France Compared to the US?
The US is bigger than France in terms of landmass and population. The United States' landmass is approximately 9,833,517 sq km, while France is about 551,500 sq km; this makes France 5.61% the size of the United States. The population of the United States has 332.6 million people, while France has 264.8 million people.
What Language is Spoken in France?
French is the official language of France, and it's spoken by over 98% of its population as a first language or second language. Due to border boundaries shared and trade relations, other languages spoken in French include English, German, Italian, Spanish, and Portuguese.
What's the Capital of France?
Paris, founded in the 3rd century, has been the capital of France since 1944. Paris, the largest city in France in terms of land and population, serves as France's economic and political power seat. The president's official residence in the city is Élysée Palace, while the Prime Minister is housed at the Hôtel Matignon. The Senate legislative house is situated at Palais du Luxembourg, while the Assemblée Nationale meets at Palais Bourbon. Paris is nestled on the River Seine in northern France, central to the Ile-de-France region. Paris has an estimated population of 2,175,601 residents and an area of 105 sq km. Paris was formerly called Lutetia and was first occupied by the Romans in the sixth century. Paris is a popular tourist destination with over 30 million foreign visitors annually.
What is the Population of France?
France's current population, according to Worldometer elaboration of the latest United Nations data, is 65,451,605. This is equivalent to 0.85% of the world's total population. Thus France ranks as #22 in the list of countries by population.