Free Printable India Map with States & Cities,: India is the 7th biggest country (by area) in the world & many students & foreigners dream a visit India at least once their life. The reason behind this is cultural & religious differences. Due to cultural & religious differences, it makes India unique compared to other countries & so many foreign people are interested in watching Indian culture & religion.
If you are in a mood to visit India, read an Indian Map with states & cities, it's beneficial for your journey & these maps are also really helpful for foreigners & students.
Where is India located on the World map?
India, officially named is the Republic of India, is situated in South Asia & is bordered by Pakistan & Afghanistan in the north-west, China, Bhutan & Nepal in the north, Myanmar in the east, and Bangladesh just east of West Bengal. Sri Lanka is divided from India by a small sea channel.
In the World Map, India is entirely lying in the North Hemisphere. India is between 8° and 37° latitudes north from the Equator and 68° and 97° east of the equator.
How to locate India on the map of the world?
On the World map, India can be easily located surrounded by the three major water bodies of the Arabian Sea to the West, the Indian Ocean to the South & the Bay of Bengal to the east. India is stretched by over an area of 3.28 million sq. km, making India the 7th biggest country globally in terms of size.
The world-famous tourist destination is the Andaman & Nicobar Islands in the Bay of Bengal and Lakshadweep Islands in the Arabian Sea, which are parts of the Republic of India, increasing India's prominence on the world map.
Which languages are spoken by Indians?
Due to cultural & religious differences, there is no one official language of India spoken all over India. As per the 2011 census on India, Hindi (हिन्दी) is spoken by 52% of the population while 40% of the population speaks other languages, i.e., Bengali, Punjabi, Tamil, Marathi, Urdu, etc. The remaining 8% population uses English as their 1st or official language.
Free Printable India Map with States
India is divided into 28 total states and 8 Union territories. Some Indian states are large & some are small. These all states are now shown on this map and increase your knowledge of the Indian States.
Some of the famous Indian States with details are given below:
Kerala is also dubbed "God's own country," & it is one of the prettiest Indian states. Here you'll find clean & beautiful beaches at Varkala, Kovalam, & Muzhappilangad. Besides beaches, this state also consists of attractive historical monuments, waterfalls, & hill stations. Alleppey, Munnar, & Kumarakom are also the most stunning & visited places in Kerala.
Rajasthan is the land of kings & has a rich history. Moreover, this Indian state will tell you stories about historical wars, victories, romances, and men of valor. Furthermore, you can see palaces, forts, & monuments. It is also the home to the most prominent Indian desert. The Thar Desert is famous for its dunes seven deserts of safaris. Jaisalmer, Jaipur, and Jodhpur are also the most well-known places in Rajasthan.
Goa is also known for its local cuisine, especially seafood. This Indian state comprises flawless beaches & mesmerizing sunsets. There are a lot of water sports and activities held here. It is one of the smallest states in India and is very easy to explore. Arambol Beach & Mapusa Market are the most attractive places in Goa.
Punjab is known for its rich & religious history. It is also the home to the iconic Golden Temple that attracts foreigners from all around the world. In Punjab, you'll find a blend of local culture & ancient history. Some of the famous places in Punjab are Amritsar, Chandigarh, & Jalandhar.
This Indian state lies in the foothills of the Himalayan Mountain range, and you can also see the snow-capped mountains here. There are several great hill stations to visit. Rock climbing, Hiking, Mountain-Biking, and Paragliding are some adventurous activities conducted in this state. Kulu, Shimla, & Manali are also the most attractive places in Himachal Pradesh.
This state is one of the world's wonders because the Taj Mahal is located here, and the holy Ganga River also flows through this state. Uttar Pradesh is also known as the Land of Spiritually. This Indian state is filled with beautiful architecture, with famous monuments, i.e., Qutub Minar and Chaukhandi Stupa. Ayodha and Allahabad are also located in this state. Some of the most well-known & visited places in this State are Agra, Varanasi, and Lucknow.
This state is often called a piece of heaven on earth owing to its evergreen valleys, clear blue skies, & massive snow-clad mountains. It is the northernmost state in India. In addition, this state is also known for its quite idyllic villages, gushing waterfalls, & valleys. Tourists go here for relaxation & trekking. Beautiful Mosques & Temples are also here to explore. Srinagar is the capital of Jammu & Kashmir.
Which countries bordered India?
India has approx. Fifteen thousand kilometers of land borders and a coastline of about 7500 kilometers. Only 5 out of 28 states of India have no international border or coastal line. These borders are shared with seven countries, i.e., China, Pakistan, Bhutan, Afghanistan, Myanmar, Nepal, and Bangladesh. Sri Lanka is also bordered by India but is separated from India by a narrow sea channel.
Bangladesh & Pakistan share land borders and maritime borders, while Sri Lanka shares only a maritime boundary.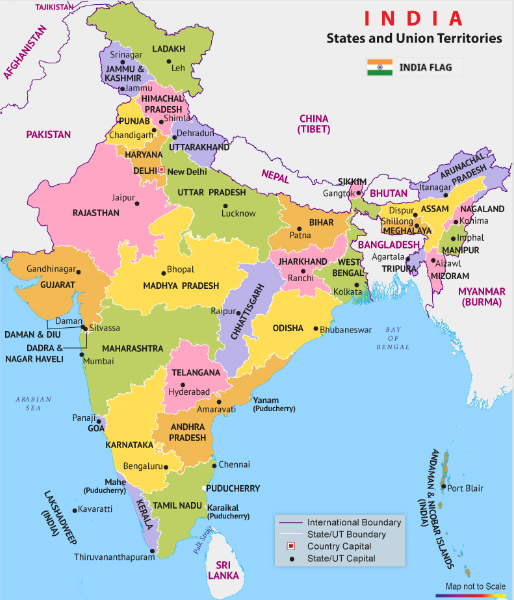 Free blank printable map of India 
India is not just a simple country. This country is now a mixture of different historical places and different cultures. Due to this, many foreigners visit India to watch many historical sites & to explore Indian culture. Below is the free blank printable map of India. This map is beneficial for geology students.
A blank world map is beneficial for a geology student. This is because those students are searching for an India Blank map for exam time. Plus, blank maps are helpful for geology students. The empty world map is the best quality and can easily change colors for different countries and highlight in your countries, so Blank India Map is beneficial for the students.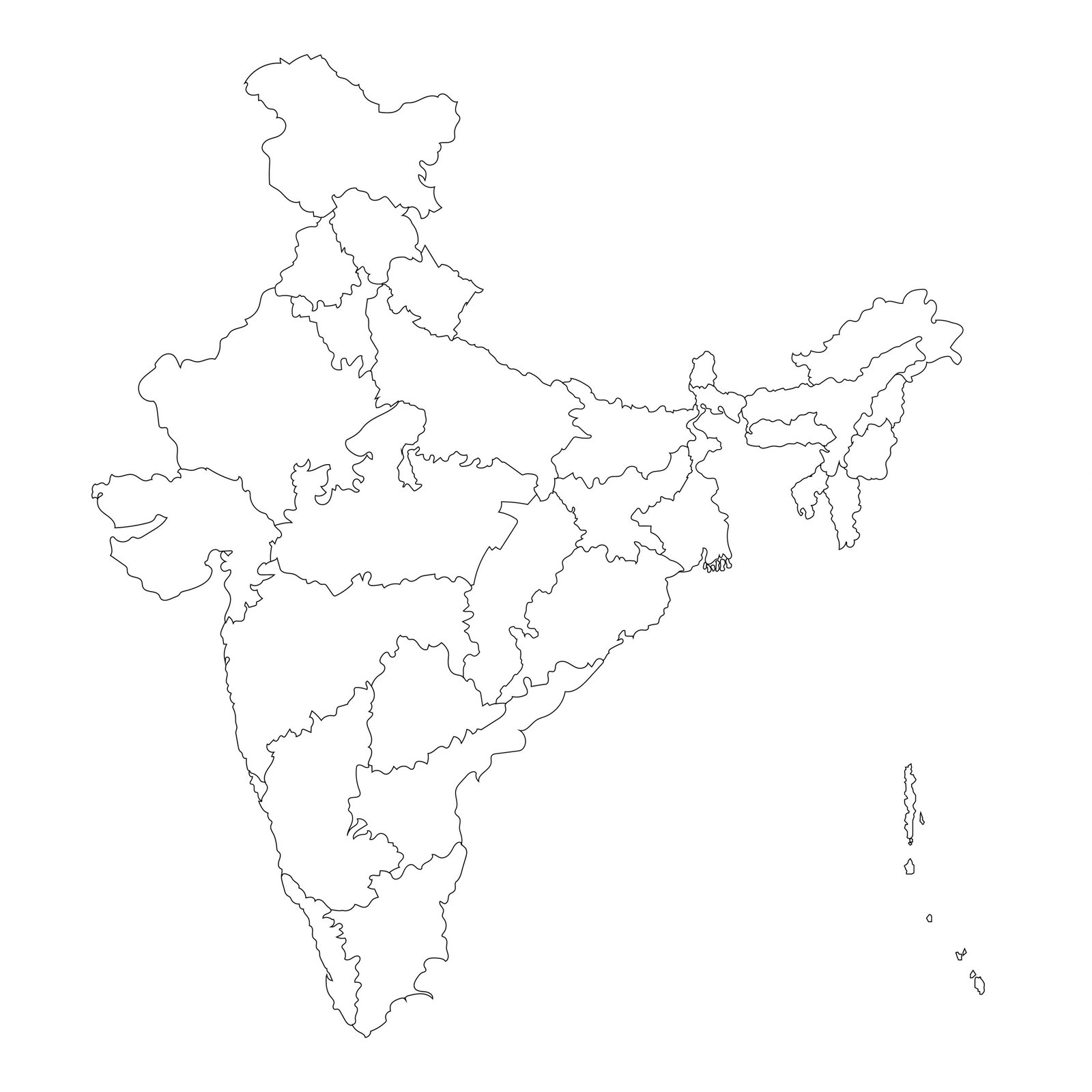 Free Blank Printable India Map
Free Blank Printable India Map with States
Free colorful India Map
Below is the free colorful map of India. This map is in the best color quality, and you can easily find out different Indian states differentiated by different colors. Everyone can quickly determine the Indian States by different colors.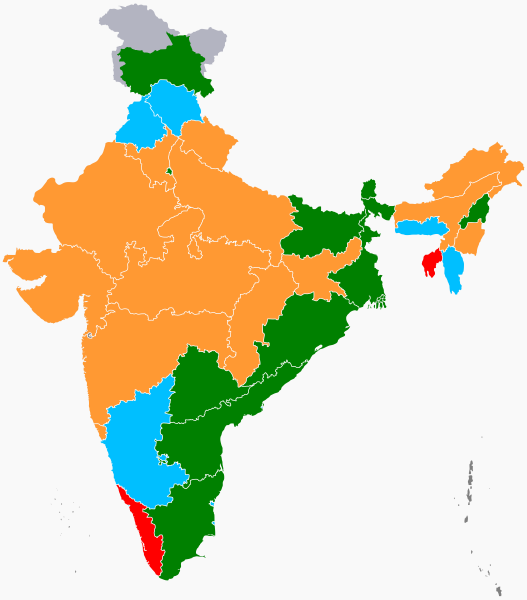 Free Colorful Printable India Map PDF
Labeled India Maps with Cities
There are over 4000 different cities & towns in India. According to the India Map, everyone is now saying that India is a big country to watch all Indian cities. These cities are divided concerning different cultures, & languages.
Labeled Printable India Map with Cities PDF
Free Political Map of India
The political map of India is such a beneficial and knowledgeable map. These maps provide more detailed knowledge of India regarding its states & cities.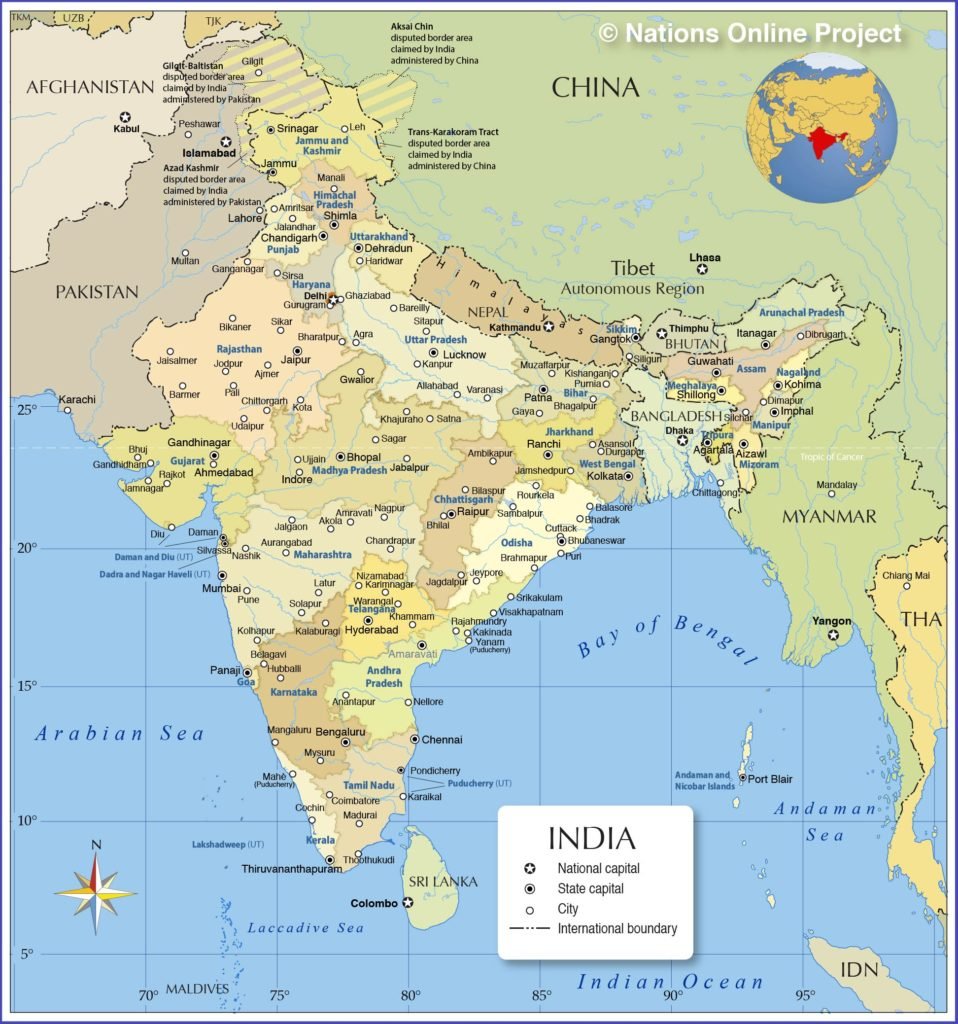 Free Political Printable India Map PDF
Population of India
By area, India is the 7th biggest country in the world. As per 2020 stats, the total population was 1.40 billion and is increasing rapidly day by day. About 300 cities of India have a population of over 100K. Seven cities have a population of more than 3 million. Greater Mumbai is still the most populated city in India.
So, here is the list of 3 most populated cities of India:
It is not surprising that Mumbai is the most populous city in India. Bollywood is a famous industry, and people all over India are rushing here to make their dreams come true. It is a city that inspires all those who want to live and succeed. The people who move to Mumbai are full of hope to realize what they want to do. But the truth is, there is a lot of traffic in Mumbai. But despite that, the city has its own playful rhythm, and people seem to be fascinated by it.
Delhi is a center of education for students from all over India and the second-most populous city of India. But its resources are squeezed by the rising population. What do you think is the reason why Delhi is polluted? One of the reasons is that the amount of traffic is increasing. The city is getting crowded, and the crime rate is rising. The people in the region are happy with the culture and lifestyle of the happenings. The growing number of multinational companies in the NCR region also contributes to their success story.
The rapid development of the IT industry since the days of Bangalore has been one of the reasons young and ambitious people from other states settled here. So, that's why it is the 3rd most populous city in India. A surprising change is taking place in the economy and culture of Bangalore. Bengaluru has a special pride in its drinking culture and attracts a new generation of the high-end middle class.
Hyderabadi is the 4th most populous city in India. Instead, it's a big part that there are plenty of high-end shopping malls, cinemas, clubs, and bars. Every morning, I see energetic people heading to "high-tech companies ."The IT sector has come to compete with big cities like Bangalore and Chennai. Due to its large population, traffic jams are severe and feared, but the Hyderabad subway system is expected to solve the problem.
Capital of India
New Delhi is India's capital and part of the National Capital Territory of Delhi. New Delhi consists of three branches of the government of India, which include the Rashtrapati Bhavan, the Supreme Court of India, and the Parliament House. Its total area is 42.7 km sq.
All maps are available for free download. You can download these maps and use these maps according to your work.