Refer to this Free Printable Labeled and Blank map of Pakistan in PDF to learn about this country located in South Asia. Pakistan's official name is the Islamic Republic of Pakistan, and it is a Muslim religion country with an Indo-Iranian speaking language. Iran, Afghanistan, and India are their neighbors. These neighbors are also part of their culture and history. On 15 August 1947, Pakistan got independence and individual identity; before that, it was part of India. You can also check out the following maps:
The Islamic Republic is bordered in the northeast by the Karakoram mountain range, the Himalayas, and China, in the northwest by Afghanistan, by Iran, in the southwest, in the south by the Arabian Sea, and in the east by India. The country is 796,095 km2 in size, somewhat larger than Turkey (783,562 km2) or a little smaller than the state of California in the United States.
Labeled Printable Map Of Pakistan
In 1947, at the time of partition, thousands of people moved to Pakistan from India as the basis of Partition was religion. Pakistan termed itself a Muslim country, so many Muslim people from India moved to Pakistan. Similarly, many Hindus and Sikhs moved to India from Pakistan. In between both the countries, four wars happened, of which three occurred in Kashmir, located in India.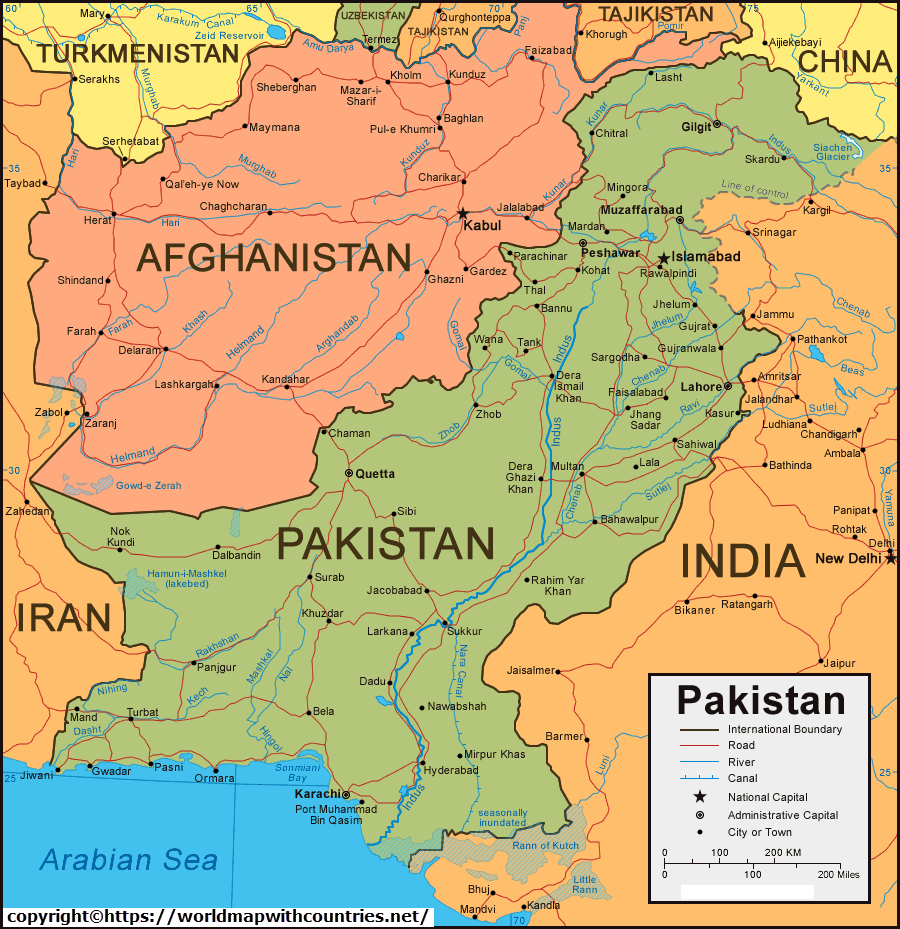 More than 228 million people live in this world's fifth most populated country (in 2022). Islamabad is Pakistan's capital. Karachi is the country's most important port, largest city, and economic center. Lahore is Pakistan's second-largest city. Faisalabad, Islamabad, and Lahore are some of Pakistan's other important cities. Faisalabad, Rawalpindi, Multan, Gujranwala, Hyderabad (Pakistan), Peshawar, and Quetta are prominent Pakistani cities.
Urdu (a Hindustani dialect), English (both official), Punjabi, Sindhi, Dari, Balochi, and Pashto are the languages spoken, and Islam is the predominant religion (96 percent). The flat fertile Indus plain in the east of Pakistan accommodates the Indus, the country's longest river and a vital water supply. The north of Pakistan is mountainous. The tallest mountains in the country are the K2 in the Karakoram Range and the Nanga Parbat, or "Naked Mountain," in Gilgit-Himalayas. Baltistan's Balochistan, in the southwest of Pakistan, is the country's largest and least populated province, with the Balochistan Plateau and the Sulaiman Mountains.
Blank Map Of Pakistan Outline
Pakistan has five provinces, a capital territory, and tribal areas.

Provinces of Pakistan
Pakistan consists of five provinces: Punjab, Sindh, KPK, and Balochistan. Each section has its legislative assembly, which the Governors of that province rule.
Sindh: Sindh is in the southeast. Karachi is Pakistan's most populous city and the state capital of Sindh. There is a connection between the Indus River and its civilizations and Sindh. Sindhi is the native language of the Sindhi people.
Punjab: Punjab is the land of five rivers. It is Pakistan's most populous province. Punjabi languages and cultures are enthralling. It is also known as Pakistan's agricultural hub. Punjab contributes significantly to Pakistan's economy.
Pakhtoon Khuwah (North-West Frontier Province): This is another name for Pakhtoon Kiawah. Tribal customs form the foundation of the Pakhtunkhwa's culture.
Balochistan. Balochistan is the largest province in Pakistan in terms of land area. It covers almost 40% of Pakistan's entire land area.
Northern Areas (Gilgit Baltistan): Northern Areas is the official name for Gilgit Baltistan. It is a place of mountains and natural splendor. Some of the world's tallest mountains are in Gilgit Baltistan, including K2 and Nanga Parbat. Gilgit Baltistan is also known as the tourism capital of the country.
Major Cities in Pakistan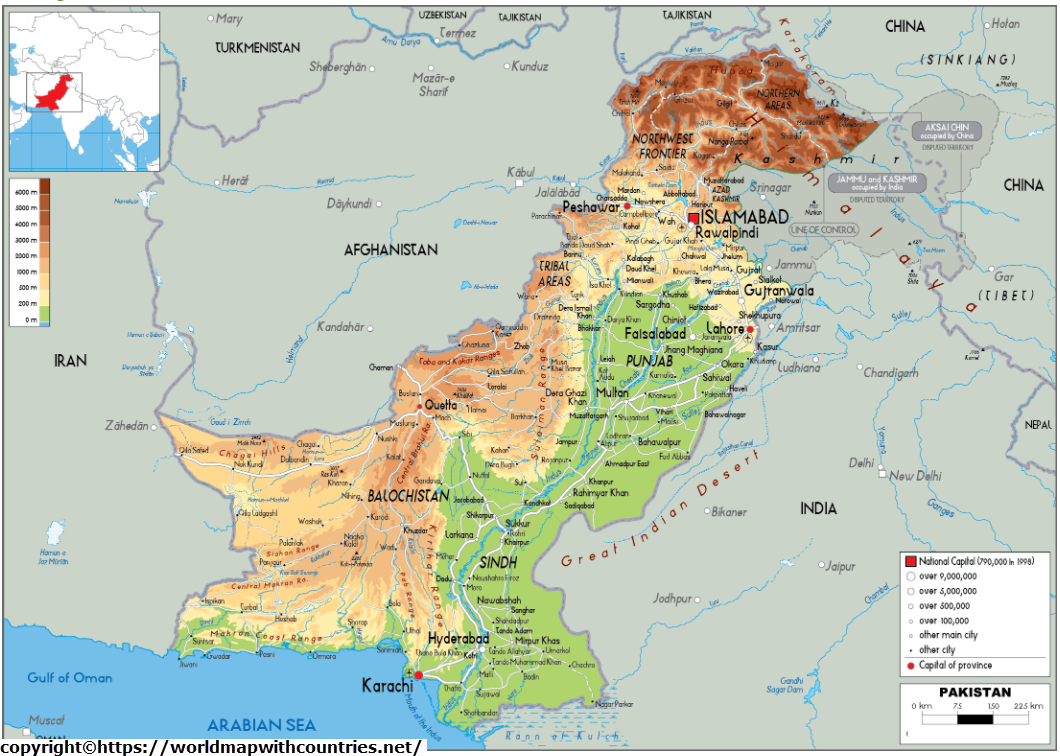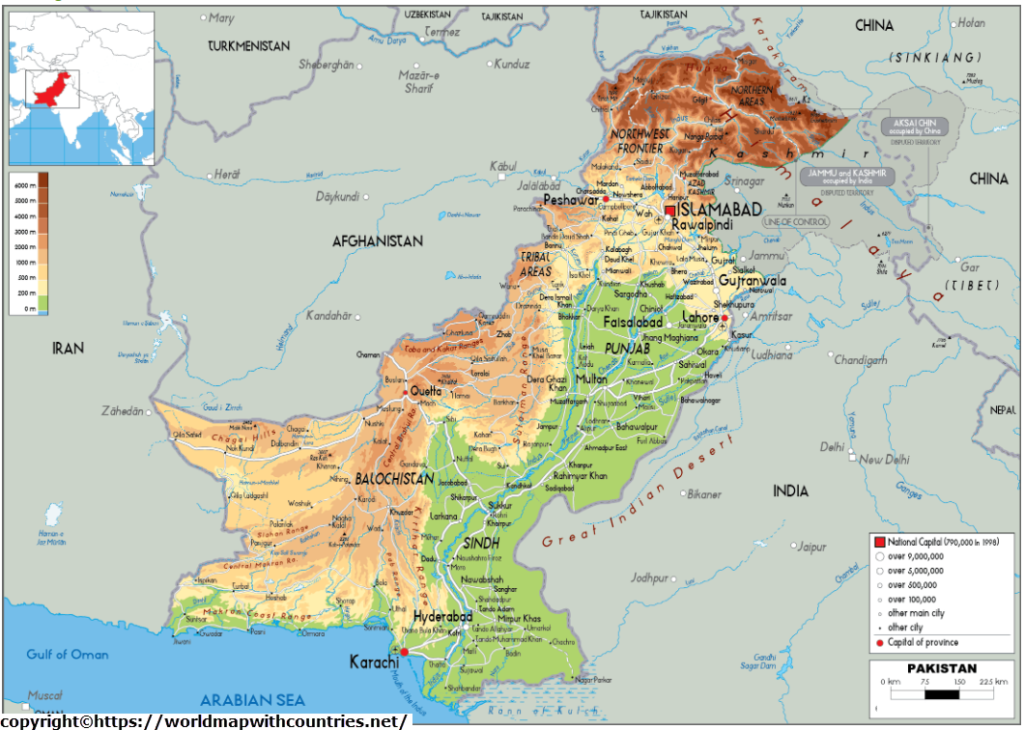 Karachi, Faisalabad, Rawalpindi, Multan, Gujranwala, Hyderabad, Peshawar, Islamabad, and Lahore are the few largest city in Pakistan. The major cities include:
Karachi: Karachi is Pakistan's largest city in terms of population. Karachi Metropolitan Area is one of the world's most populous cities. The city serves as the provincial capital of Sindh. Karachi is Pakistan's largest and most important port, located in the Arabian Sea. The Sindhi and Baloch tribes developed the city as a tiny fishing town. To this day, a limited number of descendants of these tribes dwell in the area.
Pakistan's financial capital is Karachi. It is home to Pakistan's leading Stock Exchange and the headquarters of the country's major enterprises. The increase of investors in the IT sector is a growing trend in Karachi. Karachi is gradually establishing itself as a communication and information hub. Textiles, autos, steel, and pharmaceuticals are among the industries in Karachi. The WHO recommends keeping pollution in Karachi pollution below a certain level.
Lahore: Lahore has a population of 11,126,285 people. It is the provincial capital of Punjab. Lahore has a long and illustrious history, serving as the capital of several empires, including the Shahi, Mughal, and Sikh. The architecture of Lahore is a mix of modern and old styles. Lahore is Pakistan's cultural, educational, artistic, and sporting capital. Lahore provides over 13% of Pakistan's GDP and has a thriving service sector that includes real estate, banking, financial services, tourism, and information and technology. These industries employ a large number of people in the city.
Faisalabad: Faisalabad is a district in Punjab province with 3,204,726 people. Faisalabad was once a small hamlet that grew into an urban centre under British control. It grew into today's metropolis as a commercial, industrial, and agricultural centre. Textiles, medicines, paper, drinks, jewellery, and food processing are among the city's industries. Cotton, tomatoes, wheat, and sugarcane are among the city's agricultural products. The city's infrastructure is well-planned, with vast roads, motorways, and rail networks. Because of the burgeoning middle class, the city attracts many investors launching big projects such as malls.
Pakistan Map With States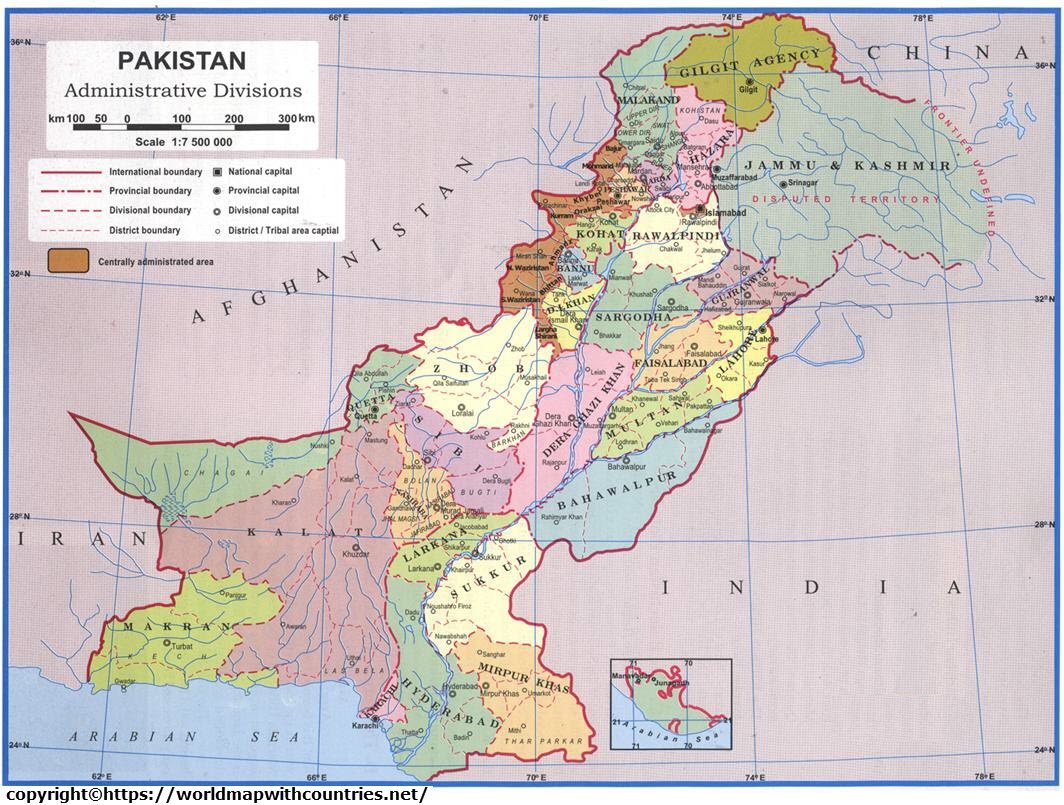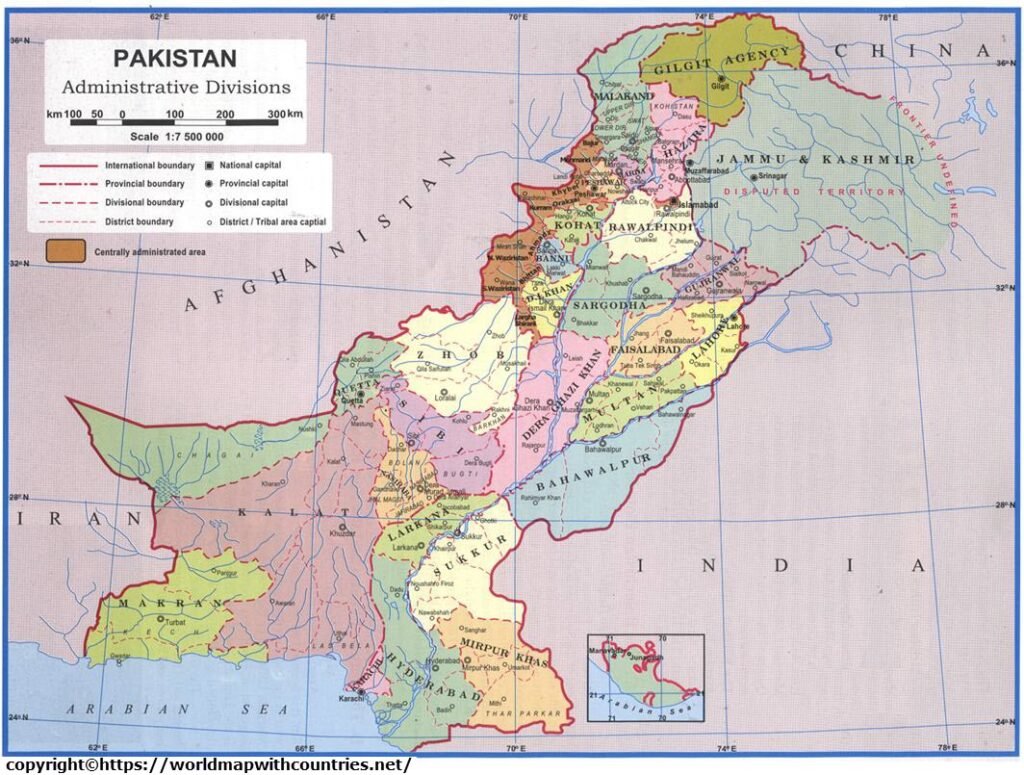 The Indus, the Jhelum, Chenab, Ravi, Beas, and Sutlej are the main rivers and sources of water in Pakistan. Moving towards the plain area Indus river is a single large river without any other tributaries. At the same time, it also causes heavy floods during the rainy seasons in July and August. Indus plain in the southeast, Bhawalpur in the eastern part, and the south region of Thar are the Desert. Both Pakistan and India share the land area of the desert.
Geography of Pakistan
Pakistan is somewhat larger than France, and the United Kingdom combined, with an area of 803,940 square kilometres. It is a South Asian country. The Arabian Sea is to the south, with 1,046 kilometres of Pakistani coastline. India, which shares a 2,912 km border with Pakistan, is to Pakistan's east. Iran, which shares a 909-kilometre border with Pakistan, is to its west. Afghanistan shares a 2,430-kilometer border with Pakistan to the northwest. China is located in the northeast and has a border with Pakistan of 523 kilometres.
The Indus River, which flows through all of Pakistan's provinces except Balochistan, is supplied by the combined waters of three of Punjab's five rivers, the Chenab, Jhelum, and Ravi, in China and runs nearly the entire length of the country. In India, the waters of the other two rivers, the Beas and the Sutlej, are mainly used for irrigation. Most of Pakistan's population, critical agricultural areas, and significant hydroelectric power units are along the Indus and its tributaries, connected by the world's most enormous irrigation canals before the Indus empties into the Arabian Sea.
Pakistan's northern and western regions are mountainous. Some of the world's tallest mountains, including the second tallest, K-2, are found in Pakistani-controlled Kashmir. Northern Pakistan receives more rainfall than the rest of the nation, and there is conservation of some sections of moist temperate forest. The Cholistan or the Thal Desert, which runs along Pakistan's southeast border with India, is a flat desert. Low mountain ranges surround a high desert plateau in west-central Baluchistan. Most Punjab and parts of Sindh are lush plains with a robust agricultural economy.
Religion
Pakistan is significant to many of the world religions. One of the first influential civilisations arose in the Indus Valley. Under Guru Nanak, Mahayana Buddhism and the Sikh religion both flourished. Pakistan was founded in the Indus Valley expressly to provide a state for the Muslims of South Asia, and there are few countries where religion plays such a significant role in people's lives.
Over 98 per cent of Pakistan's population are Muslims, with roughly 80 per cent being Sunni and 20 per cent being Shiah. About 1% of the population is Christian, with Protestants outnumbering Catholics by a small margin. Hindus, prominent nomads from the south, make up less than 1% of the population. Small Buddhist communities are present in Karachi, Lahore, Rawalpindi, Quetta, and a small number of animist Kalash in Chitral, near the Afghan border.
Major Vegetative Zone
Permanent snowfields & glaciers
Dry alpine & cold desert zone
Alpine scrub & moist alpine
Himalayan dry coniferous with ilex oak
Himalayan moist temperate forest
Sub-tropical pine forest
Sub-tropical dry mixed deciduous scrub forest
Baluchistan Juniper & pistachio scrub forest
Dry sub-tropical and temperate semi-evergreen scrub forest
Tropical thorn forest & dune desert
Mangrove and littoral
Dune desert
Agro-Ecological zones include:
Indus Delta
Southern irrigated plain
Sandy deserts
Northern irrigated plains
Rain-fed lands
Wet mountains
Northern dry mountains
Western dry mountains
Dry western plateau
Sulaiman piedmont
Art & Culture in Pakistan
Pakistan has every cause to be proud of its arts and crafts culture, which dates back thousands of years. Following independence, successive governments have provided central public assistance and initiative to promote arts and crafts in the country. The National Crafts Council's actions, as well as promotional programs from organisations like the Export Promotion Bureau and Small Industries Corporations, have helped to raise awareness of craftspeople's successes. Pakistani artisans make high-quality clay, stone, textiles, carpets, wood, metal, jewellery, and leather products.
Culture in Pakistan
Pakistan is the birthplace of a civilisation that spans over five millennia. Aryans, Persians, Greeks, Arabs, and Mughals migrated and settled in this region over the ages due to successive waves of migration from the northwest and internal migrations across the subcontinent. Islam and Islamic traditions, on the other hand, were to become the mainspring of Pakistan's cultural legacy.
Muslims have built cities, forts, palaces, mosques, madrasas (religious schools), tombs, and mausoleums that are marked by simplicity and grandeur, with open spaces and abundant light, by the Islamic concept of man's direct and honest relationship with the Creator, since the beginning of time. Pakistan has a vast cultural heritage, and the government does everything to preserve it. Pakistan has a vast cultural heritage, and the government is doing all possible to protect and promote it. Various government agencies are in charge of this, including the Pakistan National Council of Arts, Lok Virsa (Folk Heritage), National Film Development Corporation, Authority for Preservation of Mohenjo-Daro, and Pakistan National Archives.
Government Settings in Pakistan
The Islamic Republic of Pakistan's Constitution establishes a Federal Parliamentary administration system, with the President as Head of State and the Prime Minister as Head of Government. The people chose both of them. The National Assembly and the Senate make up the Federal Legislature, a bicameral Majlis-e-Shoora (Parliament). The Constitution also requires the President to address both Houses at the start of the first session after the General Elections:
Federal Government
Head of State
Head of the government
National Security Council
National Assembly
Senate
Federal Ministers
Federal Government Ministries
Federal Government Departments
Attorney General
Judiciary
Provincial Governments
Provincial Governors
Government of Punjab
Government of Sindh
Government of the North-West Frontier Province
Government of Balochistan
Local Governments