Learn about Libya, a country located in north Africa in this Free Printable Labeled and Blank map of Libya in PDF. These given maps will help you to find and locate all the major geographic, demographic, topographic features of the country. Libya is surrounded by the Mediterranean sea, Egypt, Sudan, Niger, Chad, Tunisia, and Algeria. It is one of the most developed countries in Africa with the highest per capita income.
Printable Map Of Libya:
The country most of the part lies in the Sahara Desert and the major population lies on the coast. Tripoli, Benghazi, Zawiya, Surt are the major cities of the country. Tripoli is the capital also called Tarabulus but due to internal unrest situations, the country is administered from the Tubruq near the Egyptian Border.
Blank Map Of Libya Outline:
Before the 1950s country was considered poor and based on the aid given by other countries. But after many oil reserves have been found its situation changed. The government worked in the area of developing agriculture and industry with the revenues generated from the oil reserves. Also, the oil reserves increase the per capita income of the country, it is highest in Libya. Wheat and barley are the major agricultural cereal grown in the country.  Dates, Grapes, broad beans, and peanuts also are grown in some parts with Tobacco in Tripolitania.
Labeled Map Of Libya
Libya land has basement rocks of Precambrian age. Northwest is covered with Nafusah Plateau and Al-Jifarah, Northeast with Akhdar Mountains, and the Sahara Desert in rest of country.  Sahara desert makes Libya a sea of sand by covering 1/10 part of the country. Countries highest peak is Picco Bette at 2,267 meters.
Libya Map With States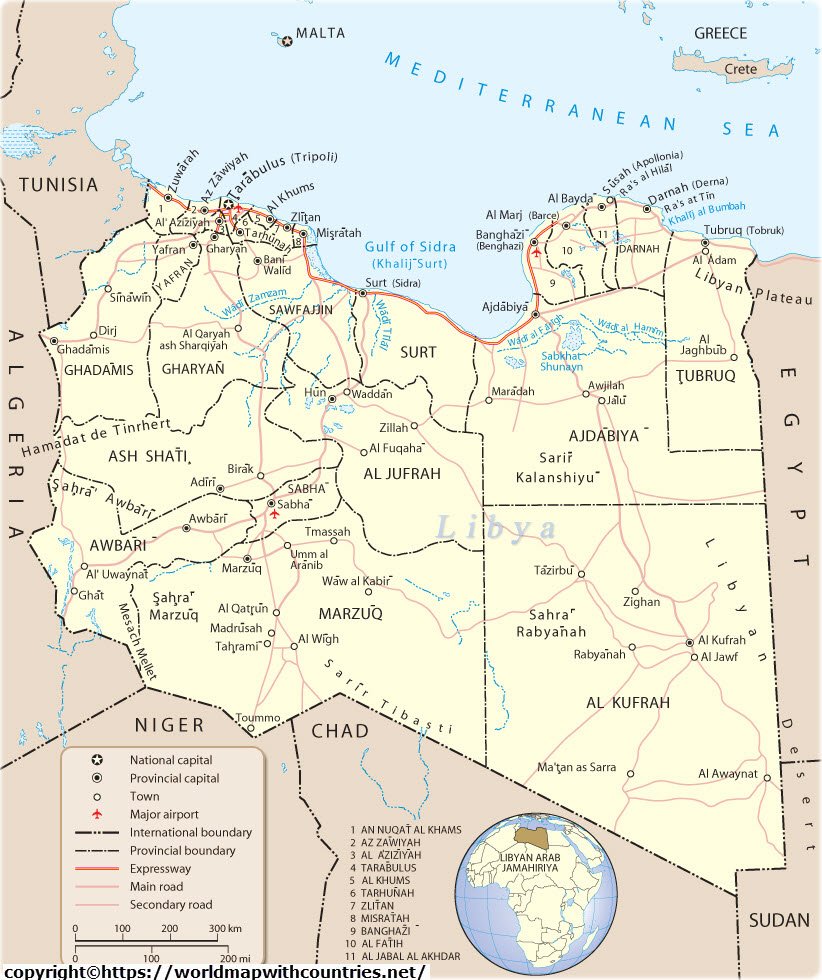 Arabic is the official language of the country and used by almost every person and also government embraces the use of Arabic to degrade the westernization of the country. Although, English is the second language used for international business and politics. The majority of the population is the Sunni Muslim community with a very small population of Roman Catholics and Christians.