With the help of the given map of Madagascar understand the geography of the country in a better way. This island country is also known as the Malagasy Republic. It is located at a distance of 250 miles from East Africa in the Indian ocean. Its wildlife is very diverse from the rest of the world. About 90% of the Madagascar wildlife is distinct from the world and not found anywhere but due to the increasing population, it is in danger.
Blank Map of Madagascar
The total land area of Madagascar is 587,041 km² with a population of 27 million. The capital city is Antananarivo, which is also known by the name Tananarive, is the largest city in the country. Madagascar is surrounded by small islands including the French Territory of Reunion and Mauritius in the east, Mozambique, the State of Comoros, and Mayotte a French territory.
Labeled Map of Madagascar:
Madagascar has many rivers including Manara, Mangora, Sambirano, Mahajamba, Betsiboka, Mania, Mahavavy south, north which provides drainage system to the country and emptied into the Indian Ocean. It also has a spiny desert area which is a globally distinctive ecoregion also referred as a deciduous thicket
The highest point of Madagascar Maromokotro which is the top of  Mount Tsaratanana with an elevation of 2876m.
Madagascar Map with States:
Despite Madagascar has unique wildlife and its land is full of natural beauty, there is an abundance of natural resources, but it is one of the poorest countries in the world. This is the reason economy and other necessities are dependent on the aid provided by other countries. Use the given map to understand the cities and regions of Madagascar.
Printable Map of Madagascar: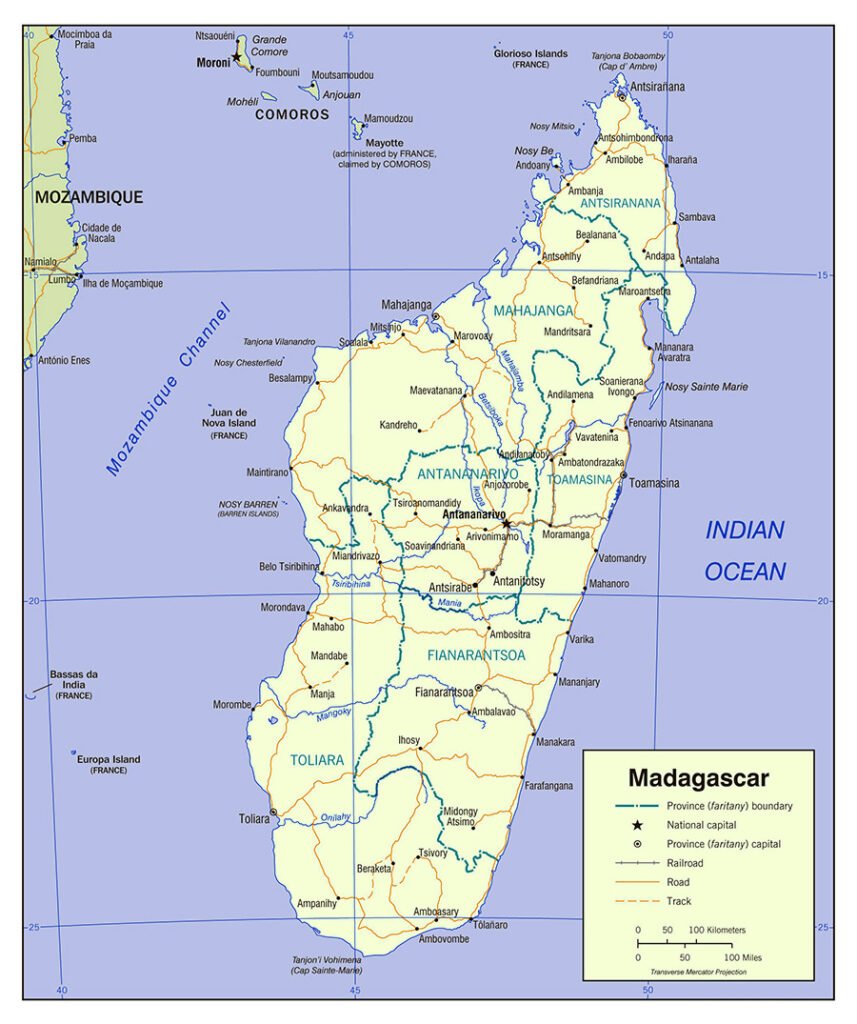 The birth rate is high and the expectancy rate is low in Madagascar because of poor health care facilities. There is the issue of deforestation for agriculture, shelter, dumping waste in rivers and water resources, a pollution-causing threat to wildlife, human population, and environment.
With the help of the given printable blank map, Madagascar finds the information of the country and its geography. You can also get other world maps and country maps on our website, please do visit for more information.