Use these map of Hungry to learn about a central European land-locked country. The given maps are labeled as well as printable to provide you information and enhance your knowledge. The official name of Hungary is Magyarország which means Land of Magyars.
Blank Map of Hungary
Hungary is surrounded by Austria, Croatia, Romania, Serbia, Slovakia, Ukraine, Slovenia, which shows it's a land-locked country. The total area of Hungary is 93,024 square kilometers with a total population of 10 million. Hungarians called their country with the name Magyarország. Lake Balaton is the largest water reserve in entire Central Europe and a tourist destination.
Hungary Map with States: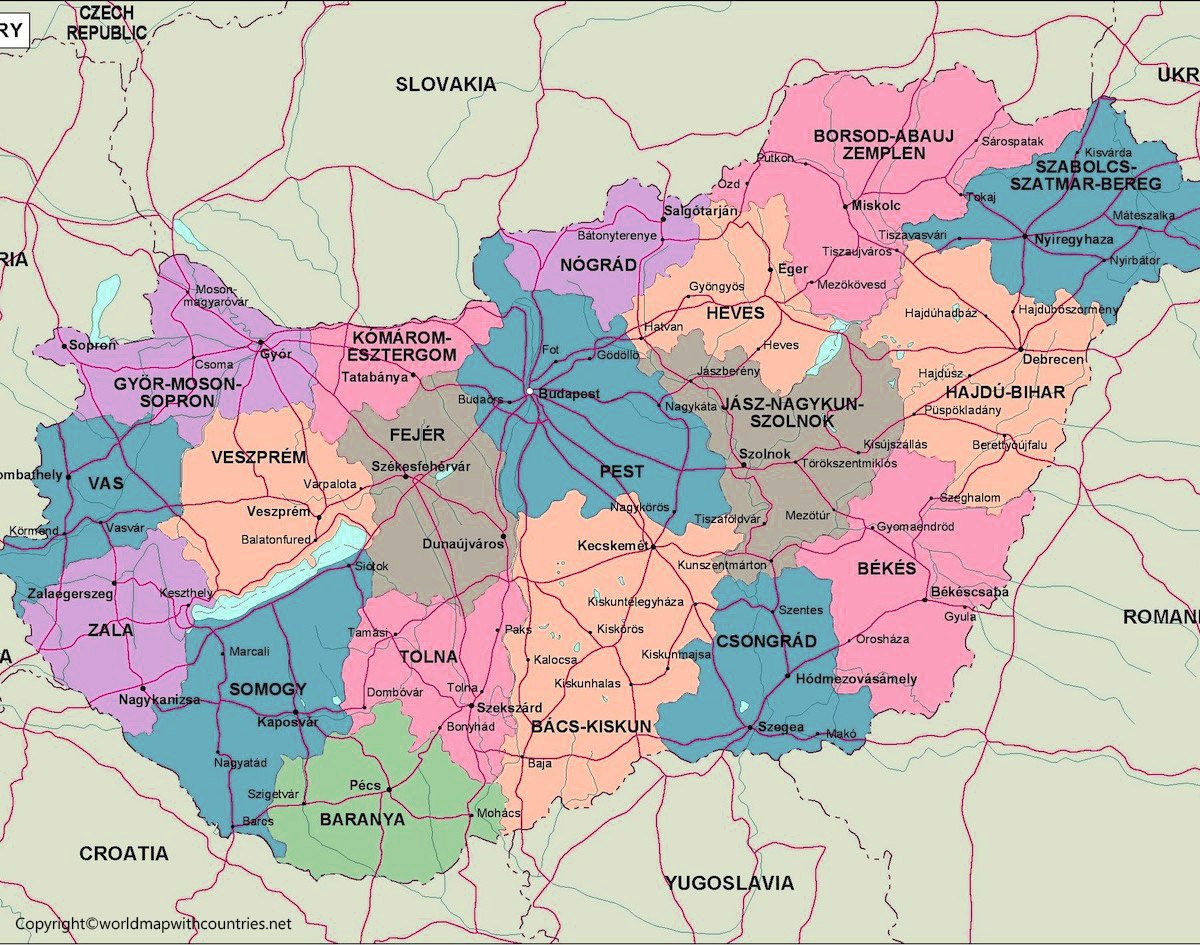 The nation is divided into 19 counties, whereas the capital Budapest acts as a separate administrative entity. Budapest, Debrecen, and Szeged are the largest cities in the country. Most of the population lives on the Pannonian Basin and is also called the Great Hungarian Plain.
Only about 2% of the country, mostly in the north, is at 300 or more meters above sea level and the rest is mostly flat in the largest grassland in Europe, the Hortobágy.
Labeled Map of Hungary:
The Danube and the Tisza are the main rivers providing drainage system to the country and is largest traveling from north to south. Budapest have one of the most thermal spring in comparison to other capitals of the world. Kekes is the tallest mountain in the west of the country with an elevation of 1000 m. Hungary also has good soil quality with 51% of arable land available for agriculture.
The majority of the population is urban but they live outside the cities. Only in Budapest, 35% of the population lives with every facility.
Printable Map of Hungary
The country has about 10 million people and has the largest linguistically isolated people group in Europe and 86% of the country's ethnically Hungarian.
Learn about the countries forming the border with Hungary, capital, highways, main roads, and other aspects of the country. Use these maps for your education studies and other projects. These maps are free of cost and online, you can download them from here and take the print.