Get to learn about the map of Gabon, with the help of the given free printable, labeled PDF form of the map. These maps are very helpful for anyone who is studying Gabon or the Countries of Africa. It is a major source of oil in Africa. It is a country with a large Christian and Muslim population segment.
Blank Map of Gabon
Gabon is a country on the coast of Africa on the side of the Equator. Libreville is the capital of Gabon. It has long connections with France and the language, and culture.
Equatorial Guinea, Cameroon from the north, to that of southeast Republic of Congo, Atlantic ocean from the west side, and the coastal side has Sao Tome and Principe are situated on the boundary Gabon.
Gabon Map with States
Equator line passes from the south of Libreville, Gabon as per your knowledge there are only 13 countries in the world from which the equator passes. Gabon has the highest concentration of gorillas out of any country in the world and holds about 80% of the entire world's wild population.
Labeled Map of Gabon
Gabon is absolutely packed with raw, unspoiled, heavily concentrated jungles and rain forests making it the second most forested African country after Seychelles at about 85% of the entire landmass.
The landmass of Gabon can be divided into three main areas: The coastal plain, the central highlands, and the thick jungle interior on the east side.
Printable Map of Gabon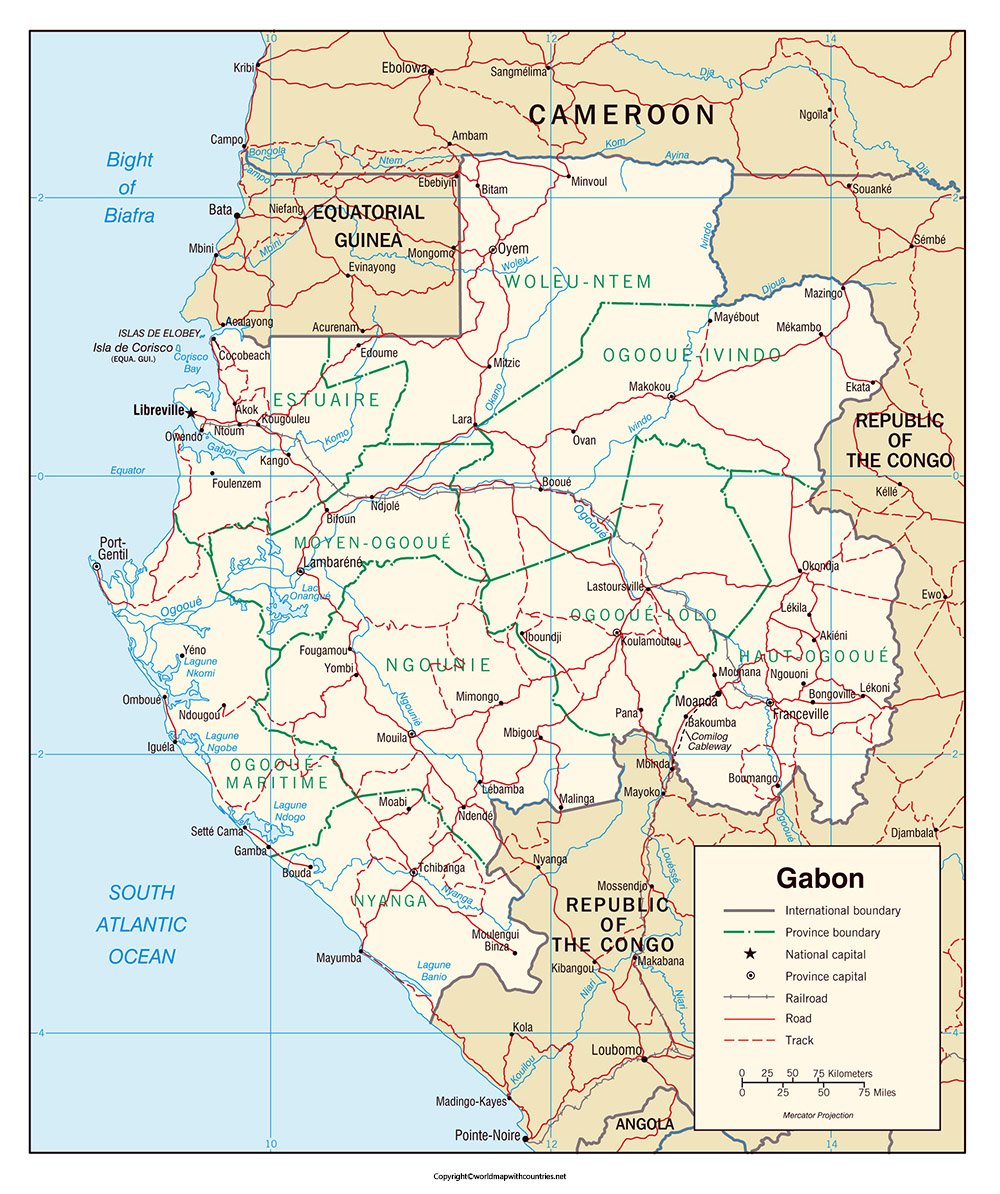 Just a skip away is the largest lake – Lake Onague and the Ogooué river the largest one that's the most important body of water that flows across the entire country and was historically used as a major source of transport especially to the cities of Moanda and Masuku (or Franceville), known for being the mining capitals of Gabon.
The highest part of Gabon is mount Bengoue with 1,070 meters above sea level, in the northeastern part.