Get assistance with the Free Printable Labeled and Blank map of Belarus in PDF to know about the country. Belarus is a country of eastern Europe, got independence in 1991 with Belorussia, and is the smallest among the three republics in the Soviet Union (the larger two being Russia and Ukraine).
Belarus Map with States
Belarus is located in eastern Europe, landlocked between 5 other countries: Russia, Ukraine and Poland, and Lithuania, and Latvia. Minsk, is the capital city of the country. The borders are strange because even though there are lots of rivers and lakes, not many of them find the borders of Belarus.
the short river borders like the Katra river in Lithuania and the Dnipro river in the south of Ukraine, but most of the borders are just arbitrarily drawn lines situated over land in which the trees and bushes are hacked to show the territory marks.
Blank Map of Belarus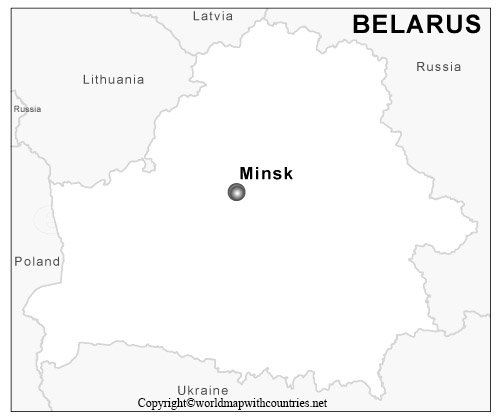 Some of these borders get weird, like in the north you have the Adutiškis railway station split between Lithuania and Belarus, in which for about a mile heading east you'll be in Belarus, and heading west you'll be in Lithuania. Also, you have an island split between Belarus and Lithuania in lake Riču, and 2 islands and 2 peninsulas in lake Drūkšiai or Drisviaty.
Belarus' southland is actually very green and lush, a huge portion of this land prior to Chernobyl was used for farming and agriculture.
Labeled Map of Belarus
The land of Belarus is generally flat, as a landlocked nation they have no access to the sea, however they do have more than enough water internally, with an abundance of rivers and lakes.
About 40% of the land is forested, some of them are captivatingly beautiful like the Biełaviežskaja forest in the west by Poland, one of the few places where you can find the rare European bison.
Printable Map of Belarus
Belarus is also located in the transitional zone between the continental climates and the maritime climates, so the weather is sometimes a little bit erratic.
Belarus has about 9,5 million people, about 84% of whom identify ethnically Belarusian, the weird thing though is that, even though over 80% of the people identify ethnically Belarusian, only a fraction of these people actually speak the Belarusian language.