Free Printable Labeled and Blank Map of Jordan in PDF will help you to understand about the countries geographical features. Jordan is located in the Middle East bordered by 4 other countries. Saudi Arabia, Iraq, Syria, and Israel, as well as the Palestinian West Bank areas along the Jordan River. And they have a small coast along the Gulf of Aqaba named after the town that borders it right across the narrow coast of Israel's Eilat.
Blank Map of Jordan
The country is divided into 12 Governorates split into North, Central, and South regions And the capital and largest city is Amman located in the center Which by the way was the same place as the ancient city of Philadelphia.
The largest cities after Amman are Zarqa and Irbid With the busiest airports being the two international ones: Amman Queen Alia International and Aqaba King Hussein International With Amman Civil Airport taking third place.
Jordan Map with States
Jordan actually has a ton of historical background, Lots of places being preserved in places of interest. Such as Jerash, Ajloun, Montreal, the Kerak Castle, The Roman Amphitheater, Amman Citadel, Ad Deir, The Ma'in Hot Springs, The Madaba Map Church, Qasr Amra, Umm ar-Rasas Umayyad Palace, The Arch of Hadrian, Mount Nebo, Where Moses is supposedly buried.
Labeled Map of Jordan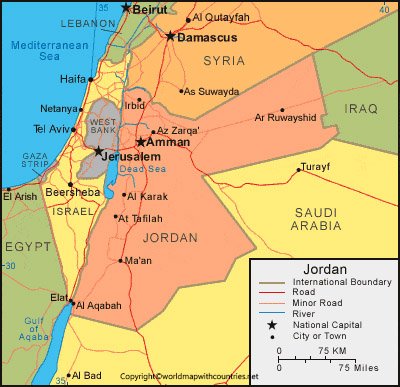 Jordan lies at the crossroads between 3 continents in the Easternmost parts of the region known as the Levant. The landmass of the country is divided into the north, south, west zone.
The majority of the land lies on a plateau Within the Syrian and Arabian Deserts Flanking the East and South loaded with dry basins and riverbeds. the highest peak Jabal Umm ad Dami, located in Jordan's top natural landmark the famous World Heritage site Wadi Rum which is basically "Mars on Earth".
Printable Map of Jordan
The Highlands go all the way on to the largest lake, the Dead Sea, the lowest point on Earth, up to 9 times saltier than any ocean, shared with Israel, which is fed into the longest river, the Jordan River, which completes the rest of the western border.