With the help of the given map of Bhutan get to know about the country situated in south-central Asia and the eastern ridges of the Himalayas. Bhutan is surrounded by China in the North and the other three sides are by India. Below given maps are free, printable, labeled, pdf form so that you can use them accordingly.
Bhutan Map with States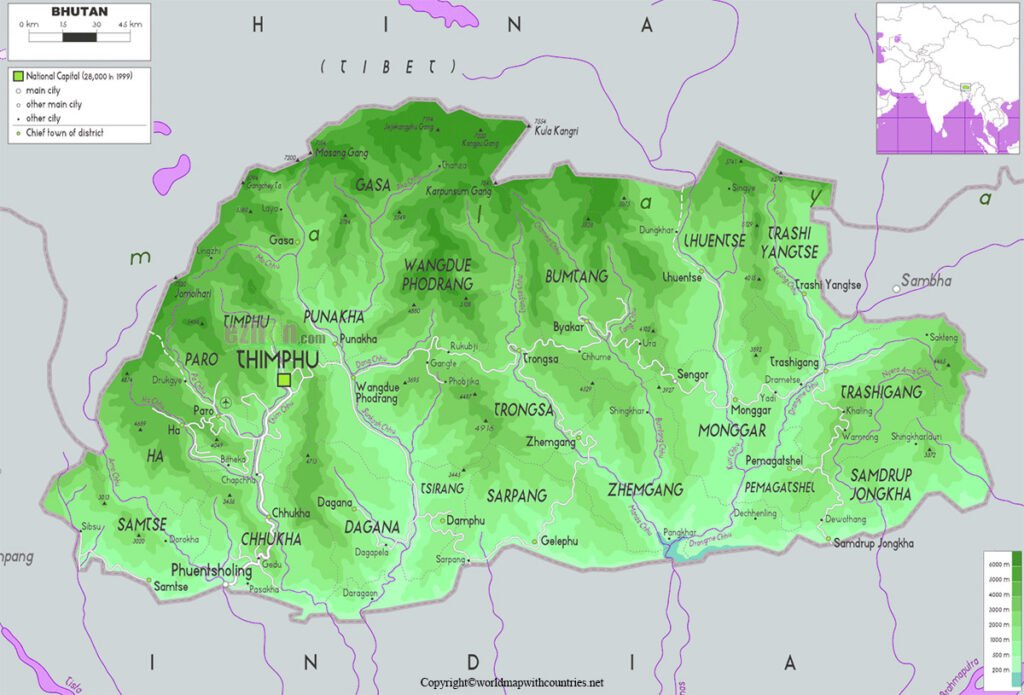 It has a boundary of 477 km with china and 659 km with India. Thimpu is the capital and largest city, while Paru is one of the important cities economically. There are 20 districts in which 2 districts are disputed with China. Dzongkha is the official language. It requires a total area of 38,394 km square, which is equal to Kerala, state of India, and holds the position of 133 number in the world. The population is 7,54,000 which is on 165th number in the world.
Blank Map of Bhutan
Highest point Gankar Puensum 24840 feet. Manas with Torsa (Amo), Wong (Raidak), Sankosh (Mo) is the main drainage system of the country with many tributaries. All these rivers connect the Brahmaputra in India. The Great Himalayas, the Lesser Himalayas, and the Duars Plain are the three areas Bhutan is divided into.
Though the size of the country is small still climate varies elevations. Thimpu's temperature varies from 2 degrees Celsius to 20 degrees Celsius moving from winters to summers. While in most of the parts summers are extremely hot and winters are colder.
Labeled Map of Bhutan:
The northern part of the country lies in the Great Himalayas which has numerous snowcapped peaks and the climate there is mostly dry. Also, the plateau of Tibet lies in this part which is helpful in water shredding towards the south.
Printable Map of Bhutan:
The northern part of the country has many jungles including the southern borders of India which has many big bamboos and Savana jungles.
Sambar deer, gaurs (a type of wild ox), rhinoceroses, elephants, tigers, Yalks found in the country, and also the government has established Royal Manas National Park (1966) which is home to Golden Langoor( a species of monkey).
Download these given maps to locate all the important physical and political aspects of the country.